Structural Insulated Panels (SIPS) are factory-laminated sandwich panels with insulation bonded between two boards of oriented strand board (OSB). Kingspan TEK® utilises Kingspan's high performance, fibre-free rigid thermoset Urethene Insulation for the core of the SIP Panels.
The Kingspan TEK® Building System comprises with the choice of 142mm or 172mm thick SIP panel and can be used for wall and roof panels. SIPs are manufactured in our factory, cut to size, ready for erection by our experienced team on site.
SIPs are not just for new homes, but can also be suitable for large extensions. They cope with most design needs and can be finished externally to your needs.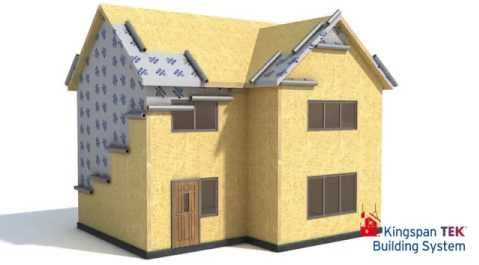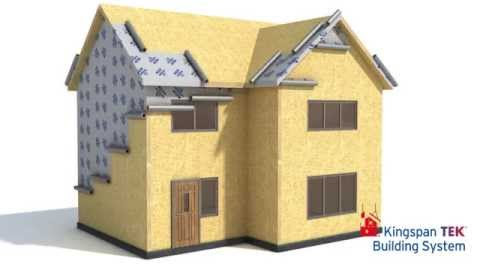 Benefits of SIPS
SIP's provide a high performance system and is one of the best environmentally friendly building systems. The high level of factory fitted insulation gives an extremely airtight building. With less air movement and leakage, there are less drafts, fewer penetrations for noise, lower energy consumption and CO2 emissions.
Using dense rigid Urethene Insulation in the core of the SIP's panel won't sag or deteriorate over time and can't be poorly fitted like commonly used insulation quilt, therefore no gaps where heated warm air can escape and cold leak in.
SIP's makes project management easier for you, with expert installation and less to organise. We can provide a precise completion date in order for you to book follow on trades. There will be fewer on-site problems with the precision cutting of our panels it ensures 'minimum defect building' and you won't have to make things fit-on-site, giving an easier 2nd fix element.